UB ART WEEK SWEEPS IN NEW WAVE OF ART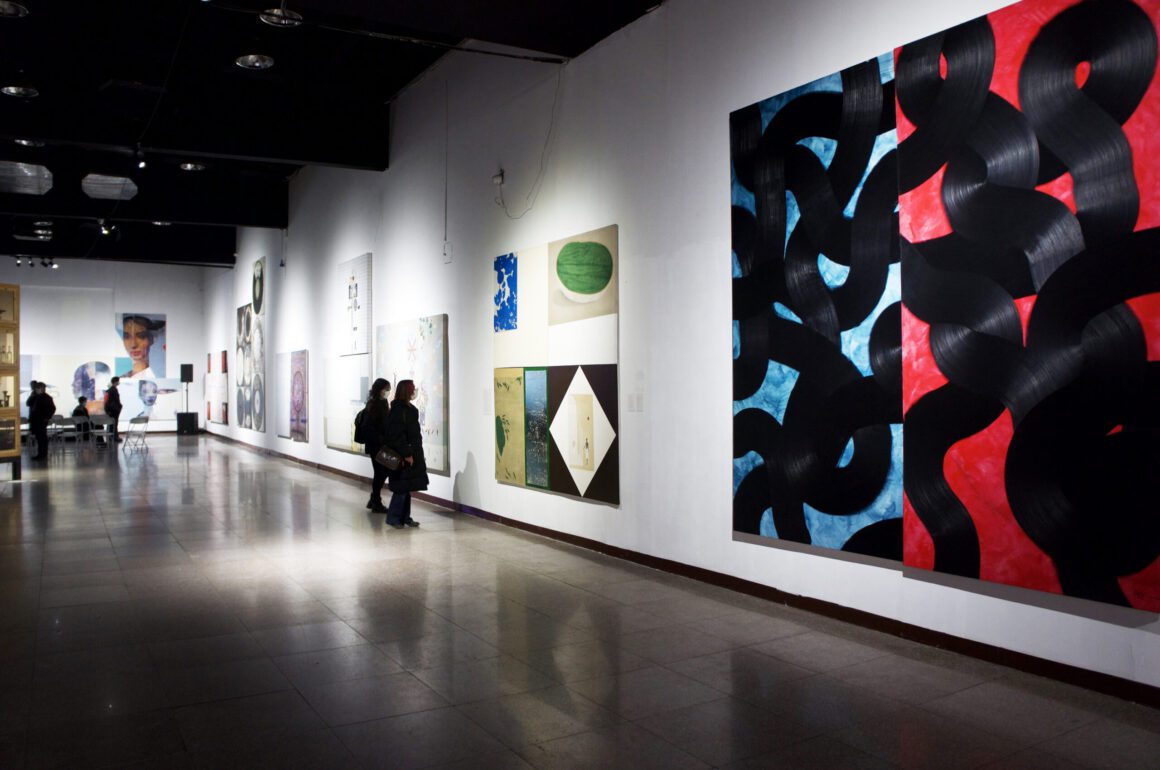 T
his past week of November 17-21, 2021, an art fair featuring over 100 artists and 10 art galleries showcased fall season's best and latest works. Seeing an eclectic array of art concentrated in one spacious venue at Misheel Expo was an unusual treat for art lovers. Though modest in promotion and size by comparison to internationally recognized art fairs, Ulaanbaatar's Art Week signaled a promising pulse in an emerging art market. The question is, can the fair impact the market by attracting more prospective buyers?
The art fair was co-curated by 976 Art Gallery founder B.Gantuya and artist M.Erdenebayar. It was organized into three rows. The one closest to the entrance directed attention to contemplative video art, innovative conceptual installations, perceptive photographs, and intriguing sculptures from ceramic, wood, metal, fabric, ready-made objects, and other media.
In the middle row, beautiful photographs of traditional Mongolian still life, serene and soft-hued landscapes from the society of watercolor artists, and modern paintings with intricate lines and flattened perspectives by the Mongol zurag society created a cozy niche for visitors to engage in a creative workshop.
In the longest section, an exciting line up of large-scale abstract and modern paintings in acrylic and oil, galvanized the tall wall and booths with a kaleidoscope of impressive colors and arresting compositions, Mongolian themes predominating.
Finally, the open area designated for a rich variety of contemporary artworks including those from latest solo exhibitions of S.Sarantsatsralt, T.Enkhbold, Ts.Tuvshinjargal, L.Gawaa and many more, completed the captivating visual experience.
Observations
Emerging talents are attempting to embrace latest technologies and fuse western techniques with Mongolian subject-matter. These concepts are being increasingly pioneered by a growing group of foreign educated creatives. Another group of seasoned artists, including a wonderful circle of Mongol zurag painters and watercolor society members, continue to have significant influence over artistic trends. Finally, a burgeoning group of contemporary artists creating experimental works promise an exciting outlook on future movements.
Although abundant in diversity and talent, the Mongolian art market is at an infant stage. The residual effects of socialism's non-transparent information and communication still reign heavily over a culturally sensitive market such as art. This makes it hard to collect and analyze data and history of facts and prices. It also exacerbates the widespread attitude of muted fear amongst the Mongolian stakeholders in 'losing' works to foreign markets. It seems to me that the solution lies in the government's sufficient funding of public institutions of art. This would enable the museums to purchase artworks, enrich their collections, and keep the art within the country as they want. Furthermore, it would help ensure the success of great initiatives such as Ulaanbaatar Art Week down the road, because in-person art fairs are a major draw for prospective buyers from both public and private institutions.
Given the current state of the global economy in the aftermath of the pandemic, recouping could take a moment or two for art markets around the world, let alone Mongolia. For the time being, Ulaanbaatar's Art Week has been a welcomed new occasion for art enthusiasts. It is worthy not only of an encore but also of an assessment. If fairly appreciated by all parties involved, the event can attract more buyers in the future.
By Ariunaa Jargalsaikhan
Published in UB Post on November 22, 2021
Ulaanbaatar